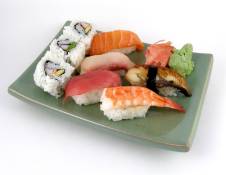 Can serve as many as you wish. On serving tray.
No. 39 – Fresh Fruit Tray – variety of fresh seasonal fruit including melon and berries, served with Merone's fruit dip.
No. 40 – Fresh Cut Vegetables – variety of seasonal vegetables including carrots, cherry tomatoes, cucumbers, celery, broccoli, peppers and asparagus with a ranch dipping sauce.
No. 41 – Antipasto Tray – imported prosciutto di Parma, imported Parmigiana-Reggiano cheese, green and black olives, sliced salami, artichokes and roasted red peppers served with toasted Italian bread.
No. 42 – Imported Cheeses – selection of hard and soft cheeses served with gourmet crackers.
No. 43 – Canapés – prosciutto and mozzarella, wild salmon on potato latkes, filet mignon and shrimp in an endive leaf are just a few we offer, all made to order.
No. 44 – Imported Prosciutto de Parma – with fresh melon.
No. 45 – Bruschetta – toasted country style bread seasoned with sea salt, cracked pepper and flat leaf parsley, topped with your choice of sautéed mushrooms, tomato and mozzarella, eggplant or grilled vegetables and mozzarella.
No. 46 – Seafood Medley – cold lobster tail, crab claws, scallops, jumbo shrimp and crab cakes served with a cocktail and spicy rémoulade sauce.
No. 47 – Sushi and Sashimi – assortment of sushi and sashimi served with wasabi, ginger and soy sauce, made to order.
No. 48 – Middle Eastern Sampler – pepper crowns filled with tabbouleh, baba ghanoush and hummus accompanied by an assortment of green olives, stuffed grape leaves and cucumber in brine.
No. 49 – Sandwich Platter – choice of wraps, subs, sandwich breads and a selection of deli meats, seafood and cheeses – order as you wish.
No. 50 – Chips & Dip – tortilla chips with spinach and artichoke, spinach and crab meat, Mexican layer dip or queso dip.
No. 51 – Chicken Wings – with your choice of sauce.
No. 52 – Beluga Caviar – served on buckwheat blinis with crème fraiche and chives.
Individual items which can be served either reheated or room temperature.
No. 53 – Crispy Asparagus with Asiago Cheese
No. 54 – Hibachi Beef Skewers
No. 55 – Beef Wellington
No. 56 – Chicken or Beef Empanadas
No. 57 – Chicken Tender Satay
No. 58 – Shrimp or Chicken Summer Rolls
No. 59 – Shrimp Cocktail
No. 60 – Coconut Crunchy Shrimp
No. 61 – Tuna Tartar
No. 62 – Mini Maryland Crab Cakes