Events > Special Menus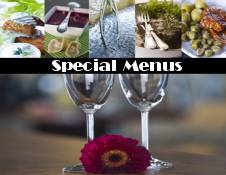 Thanksgiving and Holidays
There's no better way to ease the stress and enjoy your Holidays than catering your holiday meal. Let Merone's serve your family your special homemade recipes while you spend more time with family and friends. Consider the time you would have spent in the kitchen, not only in preparation but in clean-up. Consider the ingredients, the time shopping, and the space needed to make everyone's favorite dishes. Whether your holiday meal is a brunch or a dinner, Merone's Catering can help. Please take a look at our Thanksgiving Menu for ideas and pricing. Special recipes and instructions are welcome. And as always our Catering Specialists look forward to helping you with all aspects of your special event.
Valentine's Day
Whatever you had planned for Valentine's Day dinner, your Valentine is worth every minute of effort and preparation. But wait a minute, what if the same time and effort you were going to spend in preparation could actually be spent with your Valentine? What if you could spend that time together and still be prepared for your special dinner? At Merone's we love the idea of a romantic evening, no crowds, and very special dinner for two. Please take a look at some of our past menus let our Catering Specialists plan your perfect Valentine event.
Super-Bowl Sunday
Platters, Trays, Stations, Buffets, whatever you think of when someone shouts "Super Bowl Party", we have you covered! Pick and choose from any of our catering or dining menus. Think about your favorite selection of hot foods, cold foods, finger foods, dips, snacks, and desserts. Call us at least 24 hours prior to the game with your choices and the number of guests, and let us do the rest of the work.
St. Patrick's Day
Thanks to you St. Patrick's Day at Merone's in Dulles was a SELL-OUT last year! Please take a look at our menu and mark your calendar now for 2017 St. Patty's Day with the Merone Family and Friends.
Merone's Catering Halal Menu
Merone's Catering Halal Menu offers the finest Halal selections using the freshest ingredients. Please refer to this menu for your in-flight catering as well as any other catering needs.