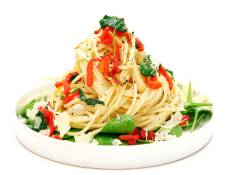 Served with Garden Salad or Caesar Salad, Dinner Rolls and Miniature Pastries
Lasagna Bolognese
Beef with lasagna noodles, smothered with fresh made tomato sauce, layered and topped with parmigiano and mozzarella cheese Vegetarian available upon request
Arrabiata Pasta
Spirali pasta with sliced chicken breast, prosciutto, peas and sun-dried tomatoes in a spicy basil sauce.
Ravioli
Large puffs of pasta filled with fresh Ricotta cheese and covered with tomato sauce.
Fettuccini Mediterania
Jumbo shrimp and crab meat in a light rosa sauce.
Stuffed Shells
Large pasta shells stuffed with fresh ricotta and mozzarella cheese. Topped with our homemade tomato sauce and more mozzarella cheese.
Tortellini in Alfredo Sauce
Cheese filled tortellini topped with our homemade Alfredo sauce.
Baked Ziti
Ziti noodles covered with Mozzarella cheese and our homemade tomato sauce. Baked to perfection and finished with parmigiano cheese.
Risotto Pescatore
Italian Rice with baby shrimp, calamari, clams, mussels, and lobster bits sprinkled with fresh parmigiana.
Chicken Paisano
Chicken breast with roasted peppers, sun-dried tomatoes & mushrooms in a spicy rose sauce.