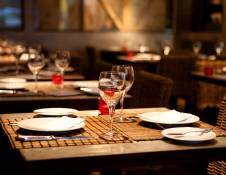 HORS D´OEUVRES
Stuffed Mushrooms – Large Mushrooms stuffed with choice of Lump Crabmeat or Sausage then baked to perfection.
Assorted Cold Canapés – Prosciutto and Mozzarella, Smoked Salmon and Herbed Cream Cheese, Shrimp and Endive, Filet Mignon with Horseradish Cream.
SALAD
Caprese Salad – Baby Spinach with Sliced Red Onion, Crumbled Feta Cheese, Toasted Walnuts and Sliced Strawberries. Served with Raspberry or Champagne Vinaigrette.
BREAD BASKET
Merone´s Dinner Rolls, Rosemary Rolls, Olive Rolls, Whole Wheat Rolls, Baguettes, SourDough and Ciabatta Bread.
ENTRÉE
Roasted Top Round – Carved at Buffet with Horseradish Cream on the side.
Herb Roasted Chicken Breast – Tender Chicken Breast roasted with Rosemary, ShiitakeMushrooms and Roasted Shallot jus Served with Herbed Olive Oil or Butter.
SIDES
Glazed Root Vegetables or Carrots Vichy.
Roasted New Potatoes with Herbs and Garlic.
INCLUDES COFFEE & TEA SERVICE