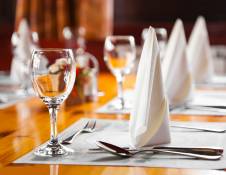 HORS D´OEUVRES
Antipasto Tray – Imported Prosciutto di Parma, Imported Parmigiano-Reggiano Cheese,Fresh Mozzarella, Green and Black Olives, Marinated Artichokes, Roasted Red Peppersand Pesto Tomatoes. Served with Toasted Italian Bread.
Beef Wellington – Beef Tenderloin and Mushrooms wrapped in Puff Pastry.
SALAD
Caesar Salad – Romaine Lettuce topped with Cherry Tomatoes, Croutons and FreshShaved Parmesan Cheese. Served with Caesar Dressing.
BREAD BASKET
Merone´s Dinner Rolls, Rosemary Rolls, Olive Rolls, Whole Wheat Rolls, Baguettes, SourDough and Ciabatta Bread.
ENTRÉE
Veal Saltimbocca – Veal topped with Sage and Prosciutto then sautéed in a Butter WineSauce. Served over Penne Pasta.
Grilled Lemon Herb Chicken – Chicken Breast marinated with Lemon Basil Herb Glazeserved with Pureed Butternut Squash and Green Beans Almandine.
Spaghetti alla Arrabiata with Pan Seared Scallops – Spaghetti Pasta in a Spicy MarinaraSauce topped with succulent Pan Seared Scallops Served with Herbed Olive Oil or Butter.
INCLUDES COFFEE & TEA SERVICE