Wedding Menu > Frequently Asked Questions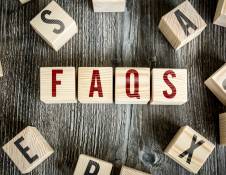 Do you provide tastings?
Yes, we are happy to prepare a selection of menu items for your enjoyment when you come in to plan your event. Since we do not keep premium or non-seasonal ingredients on-hand for tastings, we may need to shop locally for ingredients at retail stores and then offset those costs with a tasting charge per person. If you sign a contract with us, we will deduct 100% of the tasting charges from your balance due.
May I make up my own menu or make changes in your menus?
Absolutely! We love to help you create a special menu just for your special day! All of the menus on this website are completely customizeable, you are welcome to make any additions or changes you prefer.
Can you provide for vegetarian and special dietary needs?
We have wide variety of vegetarian, vegan and other menu items for special needs. When you come in to plan your event, we will discuss your dietary needs and suggest a menu that will be suitable for you and your guests. Please tell us if we need to consider food allergies.
How far in advance should I reserve my date?
Wedding receptions typically book 4-12 months in advance. We suggest reserving your date as soon as it is confirmed. Summer weekends and all dates in December fill very quickly.
Do you have children's prices?
Yes. Children 5 to 10 years old are 50% of the adult price. Children 4 and under are free, but are counted for seating.
Can you provide rental items for my event?
Yes. Not only can we arrange for the rental of the usual party items such as tables, chairs, linens, china, glassware and silverware, but we also have access to fine china, crystal, and specialty linens. We can also arrange for larger items such as canopies, stages and dance floors.
Do you provide beer, wine and liquor?
Yes. Merone's is able to provide beer, wine and liquor in a variety of packages. We are fully licensed in Virginia and have the appropriate insurances in place.
Do you provide bartenders and servers?
Yes. Our bartenders and servers are highly trained and very professional! As a general rule, you need to allow three servers and one bartender per 100 guests for beer and wine bars, and one bartender per 75 guests for full bar service.
Do you have a corkage fee?
No. We will open and serve beverages you supply at no additional charge.
Do your servers wear uniforms?
Our trained, professional staff are attired either in black and white uniforms or in all black uniforms with long, black bistro aprons. They are professional, neat, and always ready to help!
Do you charge extra to cut the wedding cake?
No, it is included in the price.
Do you setup and cleanup?
We will dress and set the tables, clear the tables, and clean the service/kitchen area, leaving it as we have found it. If you wish us to set up and breakdown the tables and chairs there is an additional fee.
How many servers will be needed at my event?
As a general rule, we have two servers for every event. Using your event details, we will recommend the minimum number of servers required based on our experience. Our goal is to make your event run as smoothly as possible.
Besides the cost of food, what charges can I expect for a catered event?
When we provide your personalized proposal, we list all of our estimated charges in order to provide you with a complete proposal. In addition to the package per person price, we include the following in each proposal: equipment costs, labor charges for service staff, and sales tax.
What does the catering service charge cover?
The catering service charge offsets labor and administration costs such as dishwashing, packing for your event, shopping for food, clean up, site visits, working with rental companies, etc. This service charge is not a gratuity.
Is a gratuity included in your bill?
Gratuities are not itemized in the bill (unless directed to do so by the client), nor are they required. They are, however, graciously accepted by our staff for a job well done. A gratuity of 15%-20% of the total food cost is customary. We do not place tip jars on bars or tables.
How can I compare quotes from two different caterers?
In the catering industry there are a variety of ways to present a bid to a client. For example, some caterers include only the price of food in the per person cost, while others include food and service. Some companies even include linens and/or china in the per person charge. It is important when comparing bids from two or more companies that pricing for all of the necessary items are included in both quotes for an accurate comparison.
How do you charge for labor?
We charge for our staff by the hour based on a four hour minimum per staff person. We do our best to estimate the amount of time that our staff will be needed for your event. However, since many variables exist, the final cost is based on the actual time worked. For large full service events, we require an Event Manager to oversee staff and ensure the coordination of a successful event.
Does your Wedding Planner provide any other services?
Merone's Wedding Planners are completely ready to help you with all of the planning related to your very special event. Every detail can be taken care of including the rehearsal dinner, the cake, venues, flowers, recording, photographer, and DJs or other music. We can also work closely with other vendors you may already have involved.