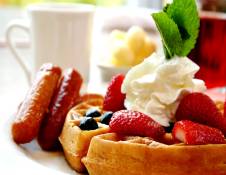 American Basket
An assortment of fresh baked bagels, danish, croissants, and muffins. Served with jelly, cream cheese and butter.
Bountiful Bagels
A variety of fresh bagels with butter, cream cheese and jelly.
Fresh Muffins
A variety of muffins: Blueberry, Chocolate, Banana Nut, and Poppy Seed
Homemade Coffee Cakes
Chocolate, lemon poppy seed, cinnamon-raisin and blueberry coffee cakes.
Fresh Baked Breakfast Breads
Beautifully arrayed assortment of freshly baked sweet breads – banana, carrot, lemon and sour cream.
Fresh Fruit Salad
Market fresh fruit – cantaloupe, honey dew melone, pineapple,strawberries, red and green grapes. Served with a citrus yogurt sauce.
Fresh Fruit Tray
Assortment of sliced seasonal fresh fruit. Melons, berries and grapes.
Omelettes
Your choice of ingredients: Ham & Cheese, vegetarian, meat lover, Western, 3-cheese. Egg white and egg beaters substitutions available upon request. Served with breakfast potatoes and choice of sausage.
Italian Frittata
Italian style omelet served open faced. Choice of fillings, such as sausage, ham, bacon, cheese, and/ or vegetables. Served with hash browns and choice of breakfast meats.
Breakfast Sandwich
Choice of English muffins, bagel or croissant. Served with egg and choice of meat and cheese.
Steak and Eggs
Grilled Tenderloin served withs scrambled eggs.
Breakfast Quiche
Choice of quiche Lorraine, NW smoked salmon or vegetarian quiche.(each pie serves 6 people)
Homemade Pancakes
Homemade buttermilk pancakes or dollar size blueberry pancakes sprinkled with powdered sugar and served with pure maple syrup and your choice of breakfast meats.
French Toast
Thick slices of harvest bread dipped in egg, milk and cinnamon and vanilla, perfectly toasted, served with maple syrup and your choice of breakfast meats.
Belgian Waffles
Homemade waffles served with fresh strawberries and sprinkled with powdered sugar. Served with maple syrup and choice of breakfast sausage, ham and bacon.
Hearty Oatmeal
Hot oatmeal served with your choice of whole milk, fat free or half and half. Accompanied with brown sugar and white raisins. Our oatmeal can be made to order.
Sides:
Hash browns
Cereals
Whole Fruit
Pancakes
Yogurt
Strawberry, Lemon, Blueberry & Plain
Scrambled Eggs
Bacon, Ham and Sausage
*Consuming raw or undercooked eggs may increase your risk of food borne illnesses