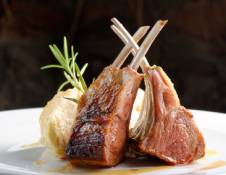 Chicken
No. 85 – Lemon-Herb Roasted Chicken
No. 86 – Chicken Cordon Bleu – stuffed with ham and Swiss cheese and rolled in herbed breadcrumbs, pan-fried and served with Dijon cream sauce.
No. 87 – Chicken Florentine – rolled with spinach in a garlic cream sauce.
No. 88 – Chicken Marsala and Mushrooms
No. 89 – Spicy Thai Chicken – seasoned with curry, peanuts, chili, and coconut.
No. 90 – Chicken Merone – stuffed with crab meat and served with hollandaise sauce.
Beef
No. 91 – Grilled Filet Mignon
No. 92 – Medallions Scaloppini – thinly sliced and sautéed in a white wine and lemon sauce.
No. 93 – NY Strip – rubbed with rosemary, thyme and oregano.
No. 94 – Black Pepper Crusted Angus Sirloin – with shiitake mushroom sauce.
Pork
No. 95 – Oven Roasted Pork Tenderloin – seasoned with rosemary, sea salt and black pepper.
No. 96 – Balsamic Glazed Pork Medallions – roasted with balsamic vinegar and brown sugar glaze.
No. 97 – Italian Stuffed Pork Tenderloin – stuffed with mushrooms, onion and wild rice.
No. 98 – Chili Rubbed Pork Chops with Honey Jalapeno Glazed Pork
Veal
No. 99 – Veal Scallopini – with a lemon cream sauce.
No. 100 – Veal Saltimbocca – topped with sage and prosciutto and sautéed in a beurre blanc sauce.
No. 101 – Veal Milanese – on a bed of arugula with chopped tomato.
No. 102 – Veal Piccata – with lemon, capers and parsley-butter sauce.
No. 103 – Veal Parmigiana – topped with a tomato and herb sauce, then covered with thinly sliced mozzarella, lightly baked and sprinkled with fresh basil.
No. 104 – Grilled Veal Chop – stuffed with mushrooms, Swiss chard and goat cheese.
Seafood
No. 105 – Salmon alla Puttanesca – black olives, mushrooms, capers and roasted peppers in a light mushroom sauce.
No. 106 – Swordfish – grilled or baked with capers and scallions in a white wine and lemon sauce.
No. 107 – Spice Crusted Mahi Mahi – with a mango and lime salsa.
No. 108 – Pan Seared Scallops – with crispy bacon and sage.
No. 109 – Parisian Prawns – sautéed with chopped tomatoes in a garlic, lemon and white wine sauce.
No. 110– Chilean Sea Bass Creole Style
No. 111 – Lobster Thermidor– grilled lobster shells stuffed with lobster meat in a light cream sauce.