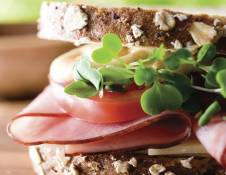 Good for a short flight or trips without a flight attendant. Each box lunch contains your choice of sandwich, wrap, or hot or cold entrée, with two sides and a dessert. Individual piece of cheese, crackers, condiments and utensils also included.
Bread Choices: white, whole wheat, rye, multigrain, tortilla wrap, pita, sub roll, Kaiser roll, focaccia, baguette, brioche and others (including gluten-free).
No. 20 – Deli Style Sandwich – choose from a variety of deli meats, seafood and cheeses.
No. 21 – Chicken Portabello on Multigrain Roll
No. 22 – Turkey and Avocado Club – classic club with smoked turkey, avocado, bacon, tomato, melted Swiss cheese and herb mayonnaise.
No. 23 – Crabcake and Tartar on Brioche
No. 24 – Salmon BLT – classic BLT with wild grilled salmon
No. 25 – Roasted Vegetable and Mozzarella Cheese Wrap
No. 26 – Mediterranean on Pita – roasted red peppers, hummus, stuffed grape leaves, olives, sun-dried tomatoes and feta cheese served in pita bread.
No. 27 – Seafood Medley ée – lobster tail, crab claws, scallops, jumbo shrimp and crabcakes served with a cocktail and spicy remoulade sauce.
No. 28 – Sushi and Sashimi ée – assortment of sushi and sashimi served with wasabi, ginger and soy sauce, made to order.