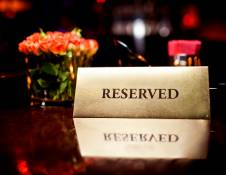 HORS D´OEUVRES
Chicken Satay – Fresh Chicken Breast simmered in a Peanut Sauce. Served with Choice of Peanut Dipping Sauce, Teriyaki Sauce, Sweet and Sour or Mango Salsa.
Spanakopita – Phyllo Dough stuffed with Spinach and Feta Cheese.
Caprese Skewers – Cherry Tomatoes, Mini Mozzarella Balls and Basil drizzled with ourhomemade Balsamic Reduction.
SALAD
Strawberry Salad – Baby Spinach with Sliced Red Onion, Crumbled Feta Cheese, Toasted Walnuts and Sliced Strawberries. Served with Raspberry or Champagne Vinaigrette.
BREAD BASKET
Merone´s Dinner Rolls, Rosemary Rolls, Olive Rolls, Whole Wheat Rolls, Baguettes, SourDough and Ciabatta Bread.
ENTRÉE
Merone´s Roasted Lamb Loin – with Pancetta, Roasted Zucchini and Squash, and RedPeppers. Served with Rosemary au jus.
Stuffed Oven Roasted Salmon – Oven Roasted Salmon stuffed with Lump Maryland Crab Meat and served with a Lemon Dill Sauce Served with Herbed Olive Oil or Butter.
SIDES
White and Green Asparagus – with Orange Wedges and toasted Pine Nuts.
INCLUDES COFFEE & TEA SERVICE