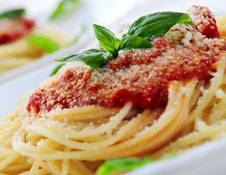 No. 76 – Linguini alla Tuttomare – scallops, mussels, shrimp, clams and calamari in a light marinara sauce
No. 77 – Risotto Pescatore – Italian rice with baby shrimp, calamari, clams, mussels and lobster bits sprinkled with fresh parmigiana.
No. 78 – Fettuccini Mediterania – jumbo shrimp and crab meat in a light rosé sauce.
No. 79 – Chicken Paisano – chicken breast, sun dried tomatoes, mushrooms and roasted red peppers in a creamy rosé sauce over penne pasta.
No. 80 – Lasagna Bolognese
No. 81 – Vegetable Lasagna
No. 82 – Stuffed Shells with Ricotta and Mozzarella
No. 83 – Lobster Ravioli in Creamy Rosé Sauce
No. 84 – Penne Pomodoro with Fresh Basil