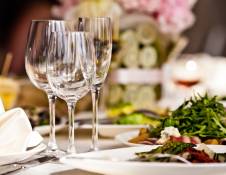 HORS D´OEUVRES
Mini Maryland Crab Cakes – Homemade mini Crab Cakes made with large Lump Crabmeat. Served with Cocktail Sauce, Tartar Sauce or Remoulade Sauce.
Hibachi Beef Skewers – Thinly sliced Steak rolled around Red and Yellow Bell Peppers,Green Onions and Monterey Jack Cheese with a Teriyaki Glaze.
Mini Tomato and Eggplant Bruschetta – Eggplant and Tomato topped with Mozzarellaand Basil. Served on Toasted Banquette.
SALAD
Garden Salad – Mixed Greens with Carrots, Cucumbers, Pepperoncini, Green Olives, Kalamata Olives, Artichokes, small Mozzarella Balls and Cherry Tomatoes. Served with Balsamic Vinaigrette.
BREAD BASKET
Merone´s Dinner Rolls, Rosemary Rolls, Olive Rolls, Whole Wheat Rolls, Baguettes, SourDough and Ciabatta Bread.
ENTRÉE
Tortellini Alfredo – Cheese filled Tortellini topped with our Homemade Alfredo Sauce.
Chicken Florentine – Tender Chicken Breast stuffed with Sautéed Spinach and Asiago Cheese then topped with Rose Sauce.
Grilled Norwegian Salmon – Served with Lemon Beurre Blanc, Blanched Asparagus and Truffle Risotto Served with Herbed Olive Oil or Butter.
INCLUDES COFFEE & TEA SERVICE