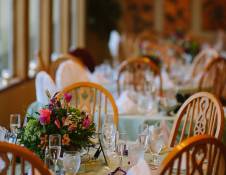 HORS D´OEUVRES
Antipasto Tray – Imported Prosciutto di Parma, Imported Parmigiano-Reggiano Cheese,Fresh Mozzarella, Green and Black Olives, Marinated Artichokes, Roasted Red Peppersand Pesto Tomatoes. Served with Toasted Italian Bread.
Coconut Shrimp – Fresh Jumbo Shrimp coated in Coconut. Served with Mango Salsa.
SALAD
Mixed Greens topped with Candied Pecans, Dried Cranberries, and Goat Cheese. Served with Balsamic Vinaigrette.
BREAD BASKET
Merone´s Dinner Rolls, Rosemary Rolls, Olive Rolls, Whole Wheat Rolls, Baguettes, SourDough and Ciabatta Bread.
ENTRÉE
Fettuccine Carbonara – Fettuccine Noodles topped with a Cream Sauce and Italian Bacon.
Filet Mignon – With Rosemary Mushroom Sauce, Grilled Vegetable Medley and Garlic Duchesse Potatoes Served with Herbed Olive Oil or Butter.
INCLUDES COFFEE & TEA SERVICE